St. Gabriels' Episcopal Church has a Taizé service every Wednesday night. Candles blaze away on tables in the front of the 125 year old church. The musicians line the back of the church to accompany the participants on the chants.
For those who are unfamiliar with Taizé, here is a brief introduction:
The Taizé Community is an ecumenical monastic order in Taizé, Saône-et-Loire, Burgundy, France. It is composed of about 100 brothers who come from Protestant, Orthodox and Catholic traditions. The brothers come from about 30 countries across the world.[1] The monastic order has a strong devotion to peace and justice through prayer and meditation. It was founded in 1940 by Brother Roger Schutz, a Protestant.[2]
The community has become one of the world's most important sites of Christian pilgrimage. Over 100,000 young people from around the world make pilgrimages to Taizé each year for prayer, Bible study, sharing, and communal work. Through the community's ecumenical outlook, they are encouraged to live in the spirit of kindness, simplicity and reconciliation. (http://en.wikipedia.org/wiki/Taiz%C3%A9_Community)
The music and meditation are a great way to wind down the day. A recent service was "Do Not Worry About Your Life." We sang the first chant:
Nothing can trouble, nothing can frighten
Those who seek God never go wanting
Nothing can trouble, nothing can frighten
God alone fills us.
The bold words in the chant carried me to the portal of the Monastery of Our Lady of Gethsemani in Kentucky—Merton's home for 27 years. The portal has an inscription: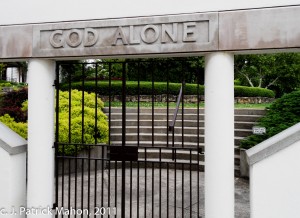 We sang a third chant just before the scripture reading on the lilies of the field and God's care for us and all creation:
In God alone my soul can find rest and peace,
In God my peace and joy
Only in God can my soul find its rest
Find its rest and peace.
Again, the words "God alone" and peace (pax) lead to another portal at Gethsemani:
Pax—peace—welcomes the people who enter the hallowed walls of the monastery founded by French monks in 1848.
After all this serendipity—God works such wonderful serendipity when we go silent—provided more than enough fodder for a quiet meditation on God alone. David Benner says our only legitimate desire isour desire for God alone. All others desires are idolatrous.
It's all about God alone. "But seek first his kingdom and his righteousness, and all these things will be given to you as well." (Mt 6:33) Sit in silence and reflect on Luke 12:22-31:
Then Jesus said to his disciples:
Therefore I tell you, do not worry about your life, what you will eat; or about your body, what you will wear.  For life is more than food, and the body more than clothes. Consider the ravens: They do not sow or reap, they have no storeroom or barn; yet God feeds them. And how much more valuable you are than birds! Who of you by worrying can add a single hour to your life? Since you cannot do this very little thing, why do you worry about the rest? "Consider how the wild flowers grow. They do not labor or spin. Yet I tell you, not even Solomon in all his splendor was dressed like one of these. If that is how God clothes the grass of the field, which is here today, and tomorrow is thrown into the fire, how much more will he clothe you—you of little faith! And do not set your heart on what you will eat or drink; do not worry about it. For the pagan world runs after all such things, and your Father knows that you need them. But seek his kingdom, and these things will be given to you as well.
The Word is clear. Why is it so hard for us to get it?