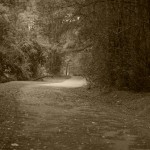 I read an inspiring reflection today on seeing Jesus in our lives (http://onlineministries.creighton.edu/CollaborativeMinistry/100612.html). Of  late, I have not been one to slip into the Jesus as my personal savior stream. I am more inclined toward, "Jesus then. Christ now." The Cosmic Christ is a power in the cosmos working toward good.
The risen Christ takes on a cosmic dimension which I am coming to embrace more and more as I read Matt Fox's Hildegard of Bingen: A Saint for our Times. [Hildegard now joins Catherine of Sienna and the two T[h]eresas as a doctor in the church.] The cosmic includes the personal but takes us far beyond the personal as Holy Wisdom connects us with creation and the cosmos. Wisdom is the goddess at work before the dawn of creation. Eventually we came to understand that the Holy Spirit, hovering over the primordial foam, is the Wisdom of the Godhead.
Paul exalts the Cosmic Christ in Ephesians and Colossians. In Ephesians 1, Paul writes:
For this reason, ever since I heard about your faith in the Lord Jesus and your love for all God's people, I have not stopped giving thanks for you, remembering you in my prayers. I keep asking that the God of our Lord Jesus Christ, the glorious Father, may give you the Spirit of wisdom and revelation, so that you may know him better. I pray that the eyes of your heart may be enlightened in order that you may know the hope to which he has called you, the riches of his glorious inheritance in his holy people, and his incomparably great power for us who believe. That power is the same as the mighty strength he exerted when he raised Christ from the dead and seated him at his right hand in the heavenly realms, far above all rule and authority, power and dominion, and every name that is invoked, not only in the present age but also in the one to come. And God placed all things under his feet and appointed him to be head over everything for the church, which is his body, the fullness of him who fills everything in every way.
In chapter 3, Paul further develops his understanding of the Cosmic Christ:
 I became a servant of this gospel by the gift of God's grace given me through the working of his power. Although I am less than the least of all the Lord's people, this grace was given me: to preach to the Gentiles the boundless riches of Christ, and to make plain to everyone the administration of this mystery, which for ages past was kept hidden in God, who created all things. His intent was that now, through the church, the manifold wisdom of God should be made known to the rulers and authorities in the heavenly realms, according to his eternal purpose that he accomplished in Christ Jesus our Lord. In him and through faith in him we may approach God with freedom and confidence. I ask you, therefore, not to be discouraged because of my sufferings for you, which are your glory.
Then Paul launches into his powerful prayer for the recipients of his epistle:
For this reason I kneel before the Father, from whom every family in heaven and on earth derives its name. I pray that out of his glorious riches he may strengthen you with power through his Spirit in your inner being, so that Christ may dwell in your hearts through faith. And I pray that you, being rooted and established in love, may have power, together with all the Lord's holy people, to grasp how wide and long and high and deep is the love of Christ, and to know this love that surpasses knowledge—that you may be filled to the measure of all the fullness of God. Now to him who is able to do immeasurably more than all we ask or imagine, according to his power that is at work within us, to him be glory in the church and in Christ Jesus throughout all generations, for ever and ever! Amen.
The Cosmic Christ is wisdom incarnate now in the presence of the Holy Spirit. As Word, Christ danced as creation flared forth. Merton's poem, Hagia Sophia, to which I return often, understands wisdom to be the goddess side of the Godhead. Merton grasps the inherent unity in the cosmos. We, to use my terms, have all come forth from the same stardust to share in the fecundity of Wisdom, the Cosmic Christ:
There is in all visible things an invisible fecundity, a
dimmed light, a meek namelessness, a hidden whole-
ness. This mysterious Unity and Integrity is Wisdom,
the Mother of all, Natura naturans. There is in all
things an inexhaustible sweetness and purity, a silence
that is a fount of action and joy. It rises up in word-
less gentleness and flows out to me from the unseen
roots of all created being, welcoming me tenderly,
saluting me with indescribable humility. This is at
once my own being, my own nature, and the Gift of
my Creator's Thought and Art within me, speaking
as Hagia Sophia, speaking as my sister, Wisdom.
I am awakened, I am born again at the voice of this,
my Sister, sent to me from the depths of the divine
fecundity.
Come, Holy Wisdom, fill us with the fire of Cosmic Love Incarnate.