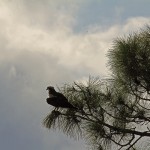 Now when it was evening, after the sun had set, they brought to Him all who were sick and those under the power of demons, 33 Until the whole town was gathered together about the door. 34 And He cured many who were afflicted with various diseases; and He drove out many demons, but would not allow the demons to talk because they knew Him [[20]intuitively]. Zondervan (2010-08-17). Amplified Bible (p. 884). Zondervan. Kindle Edition.
[Before I start, let me recommend the Amplified Bible because it gives alternate words for some words and that enhances the meaning of the text.I also add that I took this picture of the eagle yesterday. Double click to enlarge. Close ad.]
Fr. John Rice, our former rector at Good shepherd in Hayesville, NC gave a healing prayer retreat in Titusville this past weekend and on Sunday gave a presentation and sermon on generational healing. Previous Wednesday night sessions at St. Gabriel's Episcopal Church in Titusville, FL had prepared us for the process of generational healing.
As Mark said, Jesus healed those who came to him. He saved them, set them free, liberated them. Salvation means health, wholeness. It means everything contained in the Hebrew word, shalom. That healing work still continues today through the Body of Christ—the Risen Cosmic Christ's presence to us.
Jesus came that we might have life and have life to the full (Jn 10:10).
Nobody had perfect parents. Some parents, though doing the best they could, left some deep wounds and these wounds are passed on from generation to generation unless Christ through his Body, especially in a Eucharistic service, cuts us loose from the "sins of the parents." I highly recommend participation in generational healing processes.
Some progressive Christians doubt whether healing ever occurred and especially whether it continues today. It does. I have seen it and experienced it in myself and others. I put this question to Bishop Spong and he, though denying the miracles and healing today, could not explain to my satisfaction, how healing occurs through healing ministry. Maybe it is not through a "personal" relationship with my Savior Jesus as evangelicals (which I must admit turns me off) are wont to say; however, I know it is through the Body of Christ. In spite of our struggle to be independent Egos; we are all interconnected. Our oneness in the power of the Spirit of the Risen Christ enables us to bring healing energy to one another. There is power in touch, oil, and intercessions for healing. We are all "walking around shining like the sun" as Thomas Merton said because we have a spark of the divine within us. Healing liberates that spark—the image of God—until we flare forth with new life and new consciousness.
The problem is that I am trying to describe the indescribable. This past weekend, I discovered that things that I used to call coincidence are really the "voice" of the Living God who is still birthing us as creation flares forth. This God, this Force, the Energy, this Power is bringing us to higher and higher levels of consciousness as we moan and groan our way toward Chardin's Omega Point when Christ will be all in all.
All that is required is that we listen, as St. Benedict says, with the "ears of our heart." Obedience to the Living God means listening. As Richard Rohr says so clearly, faith is not about overcoming obstacles but living them through to the end.
This past weekend prepared me well for some listening events which are coming up the next three weekends. This weekend we will be at the January Adventure in Emerging Christianity at Epworth by the Sea on beautiful St. Simons Island, GA. Walter Bruggemann and Gary Dorien will lead us to deeper awareness. The following weekend I will be privileged to be attending one of Richard Rohr's last men's retreats at the San Pedro Retreat Center in Winter Park, FL. Wow! The journey will conclude the first weekend in February at the Gladdening Light Conference with Matt Fox in Winter Park. As I finished writing this, it struck me that the Living God is alive and well in Central Florida and throughout the cosmos.
Come, Lord Jesus! You through your Body are always leading us to new light, new life, new being, higher levels of consciousness. You are giving us life in abundance.