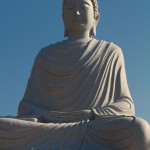 Yesterday, having seen a local news report, we traveled up the road to Mims, Florida. We finally found the White Sands Buddhist Center. Diving up a pine, oak, palm lined and curvy dirt road we emerged into an open place and beheld the larger than life statue of the Buddha. As we drove up the road, a sense of peace fell over me. I was preparing to share in some of what Merton encountered in Sri Lanka.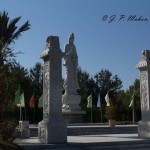 In a large circle surrounded by granite benches with Buddhist virtues carved on them, was saw a towering staute. This is a statue of Avalokitesvara – the Bodhisattva of Great Compassion and Perfect Wisdom. According to the Lotus Sutra, the Bodhisattva has 32 different embodiments to assist sentient beings in times of difficulty. Thus, this statue has a height of 32 feet. This statue, made from granite, was dedicated to the White Sands Buddhist Center by Dharma friends in the U.S. and around the world. The statue was hand-sculpted in Vietnam, and placed here on February 24, 2012.
By the most popular and beloved of the Mahayana bodhisattvas (a being that compassionately refrains from entering nirvana in order to save others). The name Avalokitesvara means something like "the Lord who looks down on the World" or according to another interpretation " the Regarder of the Cries of the World". This bodhisattva is first mentioned in the Lotus Sutra (approx. 1st century AD) which together with the Karandavyuha Sutra describe him as rescuing from all kinds of distress and danger anyone who calls out his mantra, Om Mani Padme Hum (Om the Jewel in the LotusHum). This desire and ability to help all without distinction is due to Avalokitesvara's great compassion, indeed he is seen as the very embodiment of the Buddha's compassion. (http://www.buddhanet.net/e-learning/dharmadata/fdd27.htm)
Hosea waxes eloquent today about Yahweh's great compassion in spite of the sins of a renegade people. Hosea does not scream and yell, "You have screwed up, get your act together." Hosea's words are gentle and compassionate—an invitation to return and be healed:
Come, let us return to the LORD,
it is he who has rent, but he will heal us;
he has struck us, but he will bind our wounds.
He will revive us after two days;
on the third day he will raise us up,
to live in his presence.
Yes, Yahweh has rent; Yahweh has struck the people but Yahweh will also bind up their wounds and bring them to new resurrected life.
An Israeli prophet, Hosea, and an Indian bodhisattva, Avalokitesvara, speak of the compassion of the Godhead. The Creator, the source of all life, the source of the sun that warms the earth and the rain that waters it, showers forth compassion on us.
Thomas Merton, Christian monk, spent his last days in Sri Lanka. He was bowled over by the statues of the Buddha in the ruins of Polonnaruwa, Sri Lanka. He wrote in his Asian Journal:
Then the silence of the extraordinary faces. The great smiles. Huge and yet subtle. Filled with every possibility, questioning nothing, knowing everything, rejecting nothing, the peace not of emotional resignation but of Madhyamika, of sunyata, that has seen through every question without trying to discredit anyone or anything… For the doctrinaire, the mind that needs well-established positions, such peace, such silence, can be frightening…
Looking at these figures I was suddenly, almost forcibly, jerked clean out of the habitual, half-tied vision of things, and an inner clearness, clarity, as if exploding from the rocks themselves, became evident and obvious…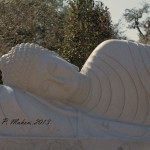 All problems are resolved and everything is clear. The rock, all matter, all life, is charged with dharmakaya… everything is emptiness and everything is compassion. I don't know when in my life I have ever had such a sense of beauty and spiritual validity running together in one aesthetic illumination. Surely… my Asian pilgrimage has come clear and purified itself. I mean, I know and have seen what I was obscurely looking for. I don't know what else remains but I have now seen and have pierced through the surface and have got beyond the shadow and the disguise.
The whole thing is very much a Zen garden, a span of bareness and openness and evidence… a beautiful and holy vision." ("Asian Journal" pgs. 233 -236)
Everything—all life all matter, all rock is charged with Hopkin's "grandeur of God." The Divine Energy is flaring forth throughout the universe. All creation is aglow with the glory of God. God's crowning glory is God's mercy and compassion toward all who suffer and all who are in need. Yahweh is compassionate and merciful. This is the dharmakaya the Buddhists speak of. The Buddha is identified with the spiritually charged nature of everything that is. Christianity, Buddhism, and science all flow together with the realization that the merciful and compassionate Divinity (whatever you call that divinity) is flaring forth as the Creator moves us toward our Omega Point. True selfhood in the Godhead. I understand better what Merton experienced in his final epiphany.
This sign from the center says it all.
As we were preparing to leave, a local woman with her two children drove up. She told us about the center and told us that we would be welcome to return at 5 pm today to join the monks in the temple. After prayer they would share a vegetarian meal with us. We plan to attend.