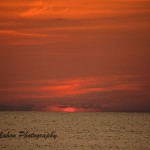 At a retreat this past weekend with Pax Christi Florida, Fr. Bob Cushing, a contemplative activist, who is a nonviolent follower of the God of Peace, brought me to a new level of awareness. He woke me up from my comfortable slumber.
How can I live nonviolently in a world of violence—wars and rumors of wars, heated, violent political invective throughout the country, multinational companies that place profit above people, millions living in poverty, nuclear weapons at ready, children starving every day, one out of six people in the land of plenty living in poverty? The list goes on and on. Break out the sackcloth and ashes—lamentation, grieving is in order. As Father Bob and John Dear remind us, we have to grieve before we can move into nonviolence.
The most important lesson for me was being reminded that, like Jesus at the Jordan, I am the beloved son of God. I must enter into contemplative practices daily so that I might become more and more aware of my chosenness. Then, and only then, will the barriers to the nonviolent Christ dwelling within me be removed so that Christ, the cosmic, resurrected Christ, can shine through the shadows within.
We are often fearful, angry and violent because we have been hurt. If we have been the victims of parental violence, it is harder to imagine the God of Peace and unconditional love. Native Americans have deep wisdom here. Their image of a loving God is based on a grandparent, who is less likely to have wounded them.
Violent parents do not have a leg up on violent churches. The pre-Vatican Roman Catholic Church that I grew up in presented a violent, vengeful God who, like the divine Santa Claus in the sky was checking everything twice to see whether I had been naughty or nice. Fear of God was not a sense of the awesomeness of the Supreme Mystery of Love Unbounded but rather a dread of eternal punishment in the fires of hell. It seems church need fearful people in order to survive.
The next learning. I am the beloved of a Loving God and we are all one! As we celebrate the one hundredth anniversary of Thomas Merton's birth, a major book containing tributes to Merton is aptly titled We Are Already One. Merton wrote, "We are already one. But we imagine that we are not. And what we have to recover is our original unity. We have to become what we are." On the corner of Fourth and Walnut in Louisville, Merton realized that he was one with all the people and that they were walking around shining like the sun because of the God presence in them! The tragedy of a plane crash in the Alps awakens us and we have compassion for Spaniards and Germans we do not even know. We have compassion for the victims of war. It is more difficult to have love in our hearts for Muslim terrorists; however, Jesus cuts us no slack. "Love your enemies. Pray for those who persecute you."
I came away from the retreat knowing that I had to wake up to new and earnest contemplative practice. In retirement, photography has become my passion. Photography connects me with the sacred in creation whether I am photographing landscapes, birds, or sunsets and sunrises in the Keys. In order to be one with what I am photographing, I have to practice contemplation—awareness of the sacred in what I am seeing. Right after the retreat in a wonderful bit of serendipity (I love serendipity because life takes care of us when we need it to.), I found an online retreat, "Eyes of the Heart: Photography as a Christian Contemplative Practice." The Buddhists also have a contemplative photographic practice-Miksang.
In my first exercise, I gazed upon the photograph above. Paintner calls this visio divina. I wrote in my diary (Click on photograph to enlarge it):
Photograph of fiery red/orange sunrise with subtle storm clouds. First sensation is that the sun is not rising. The earth on which I sit is slowly spinning down into the sunrise—down, down, down as the sun appears to come up, up, up. The way down is the way up. I am being called to enter into the warmth of Divine Love as I slowly spin downward. It—the descent—is gradual. Shadows and dark, heavy storm-like clouds block some of the Light and Warmth. Claiming my inheritance as beloved is a slow turning, a slow breaking through the shadow self and the foreboding clouds that block the Light and Warmth of Divine Love.
We are beloved. We are already one. Divine Love beckons us to nonviolence.